On Sunday 17 August me and John set out from Berga in Sälen to walk the Vasaloppsleden to Mora. Vasaloppsleden is the hiking path where the Vasaloppet ski race also takes place in March every year, as well as the Cykelvasan mountain bike race in the summer. I'd been wanting to do this walk for a few years, and finally we managed to get it organised. Before we headed off I tried to find as much information about the walk as possible on the Internet, but I didn't find very much of use, so I thought I'd make a blog post about our hike in case anyone else is interested!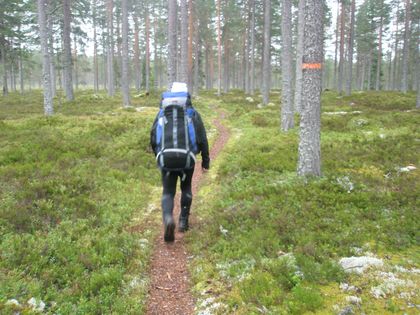 From what I'd heard beforehand, three days would be suitable for the hike: 34 km the first day (Berga-Risberg), 35 km the second (Risberg-Prästskogsstugan), and 21 km the final day (Prästskogsstugan-Mora). However, it soon became apparent that our planning had been too ambitious, because my first blister appeared after 6 km, and by the end of day 1, when we had only reached Tennäng (29 km), both my feet were covered in blisters..... Also, it was pouring down with rain, and we were both pretty tired. Our rucksacks were really heavy, because despite thinking that we had brought sensible, light food, it turned out that bananas and apples and glass jars of taco sauce weigh more than you might think..... But, the overnight cabin in Tennäng turned out to be luxury accommodation, with a fire stove, water from a tap outside, a well-kept dry toilet with lots of loo roll, a big pan to boil water in on top of the stove, and even ready chopped fire wood in the cabin! (Usually you need to chop your own wood, but there is wood provided in sheds by each cabin, along with a saw and an axe). So after some nice food, and with the wood stove going, we were warm, cosy, and happy, and we slept really well.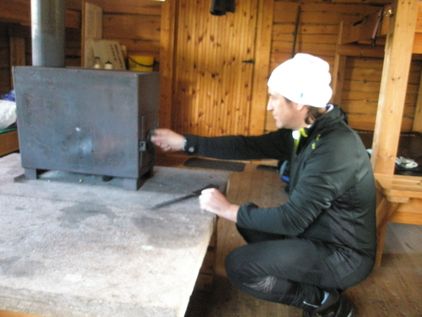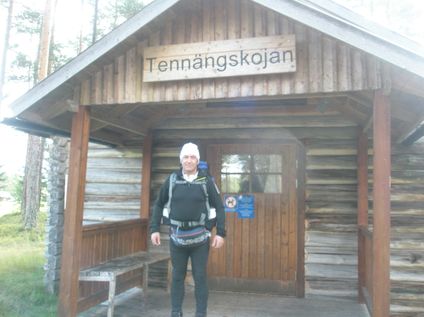 The next day my feet were still really bad, but I persevered with my fancy hiking boots, even though they were killing me, and we only made it the 13 km to Sundetkojan in Evertsberg. This cabin is supposedly one of the nicest along the route, though, due to its location by a beautiful lake, so we weren't too disappointed. We washed our poor feet in the cold, fresh water, got the fire going, did some cow calling out on the jetty, and had a lovely meal. (By the way, staying in the cabins cost SEK50 per person per night and can be paid at the Vasaloppet office afterwards).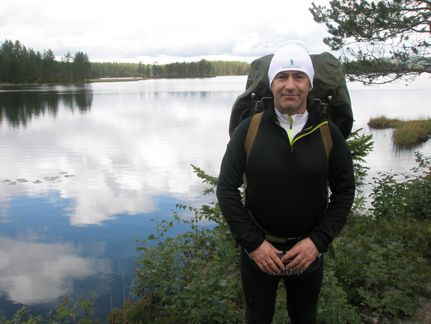 On our final day, we walked the 6 km into Evertsberg and hitchhiked home. I wore my trainers this day and realised that I'd rather have wet feet than blisters, so if I were to try this hike again I would only bring my trainers, and maybe a pair of sandals for the evenings. The trainers easily dry in front of the stove overnight. I think that to do the Vasaloppsleden in an enjoyable tempo, you'd need to spend at least five days. That would still mean 18 km per days, on average, which is still quite a lot with heavy luggage. I made the mistake of planning according to how far I am able to walk in a day without a heavy rucksack, but it's a completely different thing carrying lots of luggage on your back. Also, the next time I would definitely make sure that I brought dry food only.... On a walk like this you realise how little you actually need, and how every single thing adds up, and you really need to keep the weight to an absolute minimum... So think dried fruit, dried soya mince sauce that only needs water added, noodles, nuts, dry sesame bars, etc.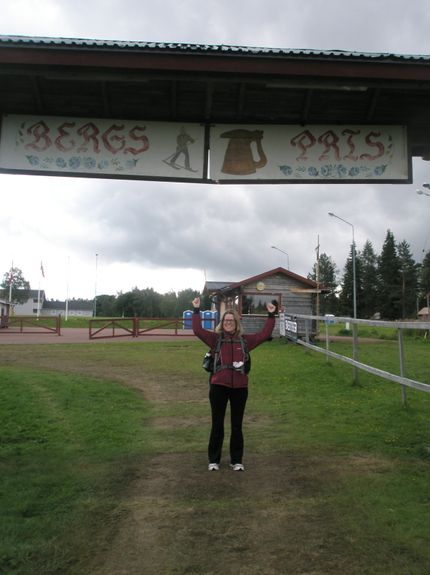 I found it hard to figure out a good, sensible schedule for the walk though (for any future attempts), i.e. how far to walk each day and what cabins to stay over in. It seems like however you look at it, if you want to avoid walking really far some days, you end up walking really short distances some days..... Please leave a comment if you have any good suggestions for dividing this route into sensible chunks!
So finally, here are a couple of lists to help you on the way, based on our experience of walking the Vasaloppsleden! Feel free to get in touch with any questions in case you're thinking about trying it out yourself!
THINGS TO BRING (I.E. ALL THE THINGS I WOULD BRING NEXT TIME):
- GOOD hiking boots, that you've tested properly on previous walks
- Walking trousers/leggings (avoid long loose ones that get wet and flop around your legs)
- 2 hiking tops
- 2 pairs of hiking socks (avoid cotton)
- 1 pair of cosy socks to wear in the evenings
- 1 vest (to wear in the evenings and/or sleep in)
- 1 pair of cosy, soft, elastic shorts (to wear in the evenings)
- 1 T-shirt to change into in the evening
- 1 pair of leggings (which can also double up as long-johns)
- 1 warmer top
- 1 hiking jacket
- Rain jacket and rain trousers
- Trainers or flip-flops
- Hat and gloves (thin sports ones, or even gardening ones that can be use for chopping wood as well)
- Swim wear (although skinny dipping is probably ok too!)
- A rain cover for your rucksack, or lots of plastic bags to pack the contents into as water proofing
- 1 small bath towel (we brought one each but could easily have shared one)
- THIN sleeping bag, maybe even just a simple travel sheet (the cabins get really warm)
- Soap, deodorant, tooth brush, tooth paste, face lotion, hair brush, foot lotion, tiger balm, in as small containers as possible (make sure you share as many of these items as possible - no point carrying around a soap each!)
- Make sure as much as possible of your food is dry food!
- Small bottle of olive oil
- Small camping stove (ours included pots and a small frying pan) and lighting fluid
- Fire lighters
- Lighter or matches
- 1 plastic cup and 1 plastic bowl (can double as a type of chopping board) each, cutlery
- 1 water bottle (enough for 2 people to share - there are lots of places to refill your bottle)
- Plenty of thin rubbish bags
- Washing up liquid (in a small bottle) + washing towel (there are washing up brushes in the cabins)
- Some aluminium foil (can be used as a lid or a trivet)
- Camera
- 1 loo roll (all toilets were stocked with lots of toilet roll)
- Anti-mosquito spray
- Map (do invest in the proper hiking map (can be purchased from the Vasaloppet office or the tourist office in Sälen) - the sign-posting is great but even so, it's easy to take a wrong turn and lose hours)
- Ear plugs
- Sun block
- Plasters
- A ground pad to sit on (quite nice during breaks)
- Pocket knife
- Head torch (one each, and make sure they contain new batteries)
- Mobile phone
THINGS TO AVOID TAKING:
- Bad shoes!
- Mirror (there are mirrors in most cabins, and you don't really need them anyway)
- A tin whistle (although it was quite entertaining to hear John try and play it!)
- Thick sleeping bags (thin sleeping bags or just a "sleeping pouch" is enough - the cabins get really hot)
- Too many T-shirts to wear in the evenings
- All food that isn't dry, really
- Only bring as much coffee as you're actually going to use
- Glass jars
- Metal jars
- Pens (there are pens in all cabins)
- Pillows (I was really comfy without one)
- Mattress (there are mattresses in the cabins)
- Candles (there are candles in some cabins)
- Watch (you'll see the time on your mobile phone anyway)
- Jewellery
- Large wallet (just keep money and cards in a plastic bag)
- Tape
- Unnecessary maps
- Fresh apples and bananas - bring dried fruit instead
- Reflector vests (you don't really walk on the road anyway)
Happy hiking, and take care,
Sofie and John
xx
PS. Here are a couple of links for web pages with more info and pictures:
https://youtu.be/eTvv8SMbWqc (in Swedish)
http://stenfeldt.se/vasaloppsleden.htm (in Swedish)
http://erikwickstrom.se/2011/07/14/vandring-pa-vasaloppsleden-%E2%80%93-jattefint-och-jattelangt/ (in Swedish)
http://www.vasaloppet.se/wps/wcm/connect/en/vasaloppet/start/visitor/vasaloppsarenan/ (in English and Swedish)